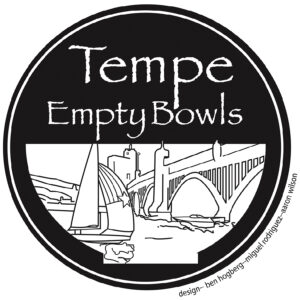 There are too many empty bowls.
Please help fill some in Tempe.




Tempe Empty Bowls 2024
Tempe Empty Bowls will return to the same location at the Tempe Public Library on Saturday, February 24, 2024.
Seeking 2024 Sponsors!
Click here to learn about sponsoring the 2024 event.
Our Story
The first Tempe Empty Bowls occurred in February 2002 after nearly a year of planning. Founding members of the steering committee were faith organizations interested in acting on their beliefs to care for the hungry. Tempe Community Council lent guidance and counsel as the early programs were developed; they brought on board Tempe Union High School District, City of Tempe, Tempe Elementary, and Whole Foods. In 2007 the sponsoring agency became Tempe Community Action Agency which has added vitality and energy to this project. Proceeds from the sale of the bowls are split between TCAA and United Food Bank. After the 20th anniversary event in 2022, organization of Tempe Empty Bowls was passed off to the TCAA Emerging Leaders Committee.
Alone we can do so little; together we can do so much.
– Helen Keller
In 1990 a high school art teacher in Michigan helped his students solve a problem. They were searching for a way to raise funds to support a food drive. What evolved was a class project to make ceramic bowls for a fund raising meal. Guests were served a simple meal of soup and bread, and were invited to keep the bowl as a reminder of hunger in the world.
By the following year the originators had developed this concept into Empty Bowls, a project to provide support for food banks, soup kitchens, and other organizations that fight hunger. Since then Empty Bowls events have been held throughout the world, and millions of dollars have been raised to combat hunger.
We can't help everyone but…everyone can help someone.
– Dr. Loretta Scott
---
Thank you for joining Tempe Empty Bowls 2023!
This year's event raised nearly $19,000! Proceeds will go towards alleviating food insecurity for seniors, adults, and families. We are incredibly grateful for our community partners and supporters. We could not continue this critical work without you. Missed this year's event but would still like to support our mission? Donate now at tempeaction.org/donate.
The TCAA Emerging Leaders Committee is already planning to make the event even better in 2024. Stay tuned for details!
Proceeds Benefit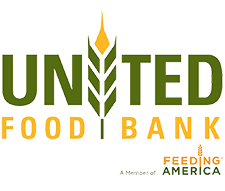 ---
Tempe Community Council Impact Award Announcement
Tempe Empty Bowls was the 2020 recipient of the Tempe Community Council Impact Award. This award is part of the Don Carlos Humanitarian Award program, and goes to groups or organizations that have made a significant impact on Tempe. The group received their award during the Tempe Community Council 37th Annual Don Carlos Humanitarian Awards, which was held virtually on Wednesday, October 14, 2020.
Contact Us
Have questions? You can always email us or message us on Facebook.
tcaaemergingleaderscommittee@gmail.com
facebook.com/TempeEmptyBowls
Thank you to our 2023 Sponsors:
Follow us on Instagram and like our page on Facebook!